Beware! Teacher On The Loose!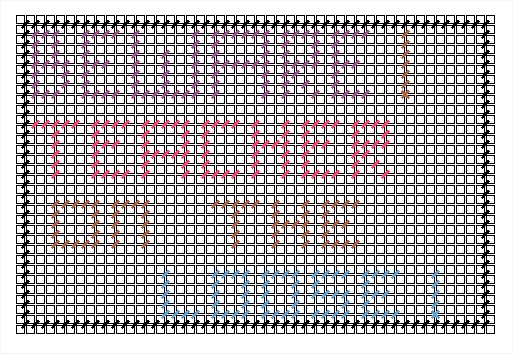 Materials Used:
7 count Black Plastic Canvas Mesh

Needloft Yarn:
#00 Black - 18 yds.
#46 Iridescent Purple Cord - 2 yds.
#50 Iridescent Pink Cord - 2 yds.
#49 Iridescent Blue Cord - 1 yd.
#47 Iridescent Yellow Cord - 1 yd.
Crafters Black Wire - 15 inches
Apple Applique
School Letter Buttons

Stitches Used:
Continental Stitch
Cross Stitch
Whip Stitch

Instructions:
Cut 2 pieces of 49X33 threads (48X32 holes) according to the pattern. Stitching
only 1 of the pieces, follow pattern to stitch the project. On the pattern, where
it is brown - use the yellow cord to stitch (we used brown so you could see it
better). Uncoded areas are stitched in Black Needloft yarn. Sew School Letter
Buttons under the word "on" and sew Apple Applicator beside the word "the".
Holding both the piece that you stitched and the unstitched piece, whipstitch
them together with black. To put the hanger on, thread one end of Crafters Black
Wire 3 holes down, 5 holes across wrap so the end is secure and then using a pencil
wrap wire around so it's curly and then thread the other end 3 holes down and 44
holes across and then wrap so the end is secure.
Questions or comments? Contact teresa@tsplace.com
Copyright 1997-2017 Teresa Crawford. Not for commercial use without permission
Back to T's Place!