Kitty Elf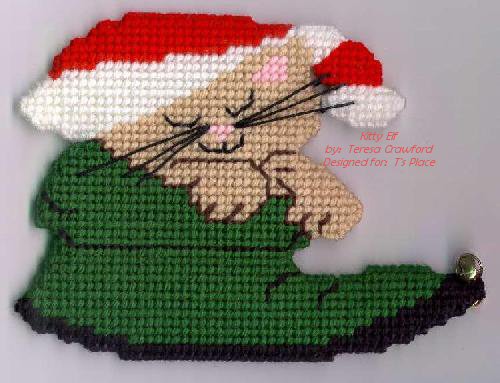 Supplies:
#7 Plastic Canvas Mesh
White Worsted Yarn
Red Worsted Yarn
Pink Worsted Yarn
Tan Worsted Yarn
Brown Worsted Yarn
Black Worsted Yarn
Green Worsted Yarn
#3 Black Pearl Cotton
Small Bell
Picture Hanger

Stitches Used:
Tent Stitch
Back Stitch
Overcast Stitch

Instructions:
Cut 1 piece of PC 54X40 threads out of clear mesh as indicated on the pattern. First use Tent stitches throughout, complete whole project in the colors on the pattern. Referring to the finished photo
add the detail Backstitches using 2 strands of Black yarn for the boot & 2 strands of Brown yarn kitty's body. Overcast in the same color as the pattern area. Backstitch using #3 Black pearl cotton for the face
last. Sew the bell onto the point of the boot. Add a hanger on the back. Optional: If this project is going to be visible from both sides, you might want to add a stitched back. Just cut out a second
pattern and reverse your stitches. Whipstitch them together instead of overcasting.

The Pattern
Questions or comments? Contact teresa@tsplace.com
Copyright 1997-2017 Teresa Crawford. Not for commercial use without permission
Back to T's Place!