Jungle Scenes Tissue Cover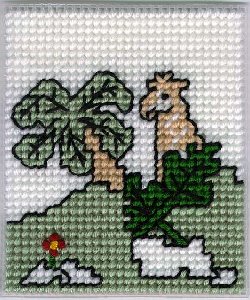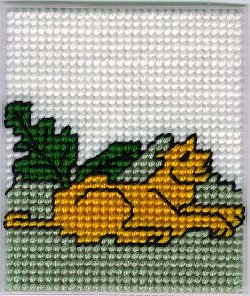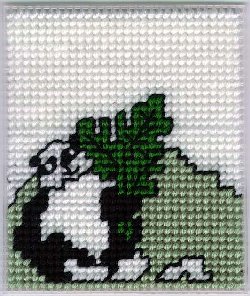 Supplies
2 #7 Plastic Canvas Mesh
Burgundy Worsted Yarn
Sage Worsted Yarn
Green Worsted Yarn
Buff Worsted Yarn
Sunflower Worsted Yarn
White Worsted Yarn
Black Worsted Yarn
#3 Black Pearl Cotton
#3 White Pearl Cotton

Stitches Used
Tent Stitches
French Knots
Back Stitch
Whipstitch

Instructions
I would like to dedicate this project to my mother, Anne Rice, whom without
her I would not be stitching today - she's the one that inspired me to pick
up a needle.

Cut 4 pieces of PC 32X38 threads. First use Tent stitches throughout, complete whole project in the colors as indicated on the pattern. Referring to the finished photo add the detail Backstitches using black pearl cotton. French Knot the eyes in black for the Monkey & Giraffe and white for the Panda. You will need to French Knot the flower in the Giraffe scene using burgundy & sunflower yarn. Cut 1 piece of PC 32X32 threads and cut a center hole out by 9X9 threads. Stitch this piece in white Tent stitches. When all pieces are done whipstitch together, putting them in any order you want.
Optional: You can do different things with this project - you could make each scene a picture and put it in a small frame or you stitch them together so they made a big square and hang them on the wall.
For patterns, click on each graphic above


Questions or comments? Contact teresa@tsplace.com
Copyright 1997-2017 Teresa Crawford. Not for commercial use without permission
Back to T's Place!