Heart Sachet Hanger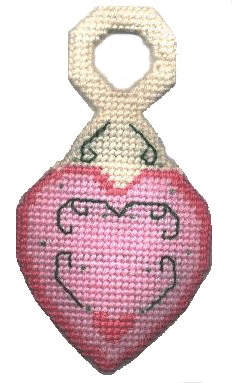 Supplies:
1 Clear # 7 Mesh
"English Rose" Worsted Yarn
"Pastel Pink" Worsted Yarn
"Aran" Worsted Yarn
DMC Floss: #909 Emerald Green vd
DMC Floss: #913 Nile Green Med
DMC Floss: #962 Dusty Rose Med
Poly-fil
Potpourri Oil

Stitches Used:
Tent Stitch
Cross Stitch
Whip Stitch
BackStitch
French Knot

Instructions:
Cut 2 pieces of PC 56x31 threads each out of clear mesh as indicated on the pattern. Stitch both sides as directed. All detail work (backstitches and french knots) are stitched with floss. Add about 10 to 15 drops of potpourri oil to a small amount of poly-fil. Place poly-fil in between the 2 stitched hanger pieces, try to keep most of the poly-fil in the large heart area. Whipstitch together - using the same color of yarn in that area.

The Pattern

Questions or comments? Contact teresa@tsplace.com
Copyright 1997-2017 Teresa Crawford. Not for commercial use without permission
Back to T's Place!