Halloween Tissue Holder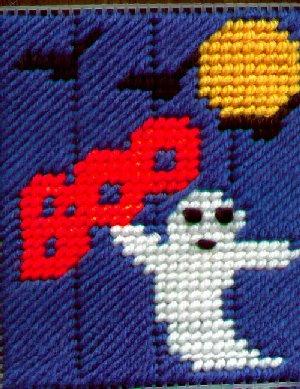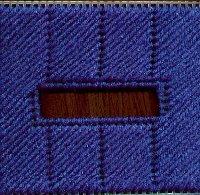 Supplies Needed:
2 Sheets 7 Mesh Plastic Canvas
Worsted Weight Yarn

Stitches Used:
Tent Stitch, Overcast Stitch, French Knots, Slanting Gobelin Stitch
Instructions:
Cut 4 pieces of PC - 30/38 threads. Follow chart and use required stitches to work Tissue Box Holder pieces. Complete background with royal blue Gobelin Stitches as indicated on chart, every 7 threads makes a new row. Cut 1 piece of PC - 30/30 threads, which is for the top, and done in royal blue Gobelin Stitches, every 7 threads makes a new row (as shown in picture). From top, come down 13 rows, and in 7 rows, to make a cutout of 5 holes by 17 holes. Use royal blue to join sides along long edges and top to sides. Holder fits snugly over tissue box.
The Pattern:

Questions or comments? Contact teresa@tsplace.com
Copyright 1997-2017 Teresa Crawford. Not for commercial use without permission
Back to T's Place!