"Cross My Heart Bookmark"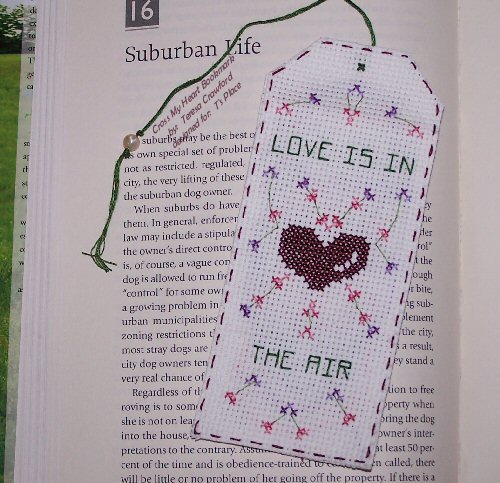 Materials Used:

14 count Aida (stitched count: 33W X 75H; approx. 3X6 finished)
DMC Thread:
#3347 Yellow Green MED - 1 strand
#3345 Hunter Green DK - 2 strands
#3731 Dusty Rose VY DK - 2 strands
#3716 Dusty Rose VY LT - 2 strands
#552 Violet MED - 2 strands
#210 Lavender MED - 2 strands
#902 Garnet VY DK - 2 strands


To Finish:

#3345 Hunter Green DK - 6 strands (for tassle)
Ivory Seed Bead
Stitches Used:

Cross Stitch
Long Stitch
Instructions:
Follow the pattern to work the project, stitching over 1 thread. On the pattern the dark blue is #552 Violet MED and the light blue is #210 Lavender MED. The Heart is done in #902 Garnet VY DK and so is the border. The words are done in #3345 Hunter Green DK in 2 strands and the tassle is done in 6 strands. You can cut the top on both sides in a diagonal just to give it a little different look. Plus you can do an every other back stitch around the entire project to give it a more finished look. If you want to you can stitch up 2 patterns and then put them back to back so that way you don't have to see the back stitches. At the very top you can do a cross stitch and then let as much of the thread as you want hang for the tassle. Tie a seed bead on the tassle towards the end, knot on both sides of the seed bead so it doesn't slide around.
Questions or comments? Contact teresa@tsplace.com
Copyright 1997-2017 Teresa Crawford. Not for commercial use without permission
Back to T's Place!