Bitsy Bear Bookmark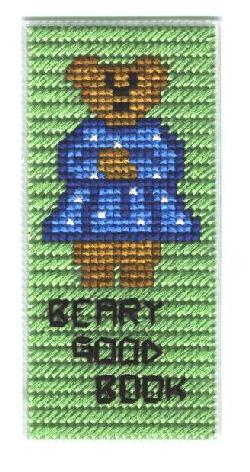 Material Used:
1/2 Clear #10 Mesh
DMC # 3371 Blackbrown
DMC # 3829 Old Gold Very Light
DMC # 729 Old Gold Medium
DMC # 825 Dark Blue
DMC # 996 Electric Blue
DMC # 954 Nile Green
DMC White
Stitches Used:
Cross Stitch
Straight Stitch
Slanting Gobelin
Instructions:
Cut 1 piece of PC 26x56 threads out of clear mesh as indicated on the pattern. Make sure you stitch "Bitzy Bear" and the background before you do the lettering. Optionally: 1) Glue 2 pieces of 1/4 inch ribbon about 4 to 5 inches each long to the back of the bookmark then a piece of green felt the size of the bookmark over that. 2) Overcast the bookmark with whatever color you desire.
The Pattern

Questions or comments? Contact teresa@tsplace.com
Copyright 1997-2017 Teresa Crawford. Not for commercial use without permission
Back to T's Place!