Bookmarks Around The World #1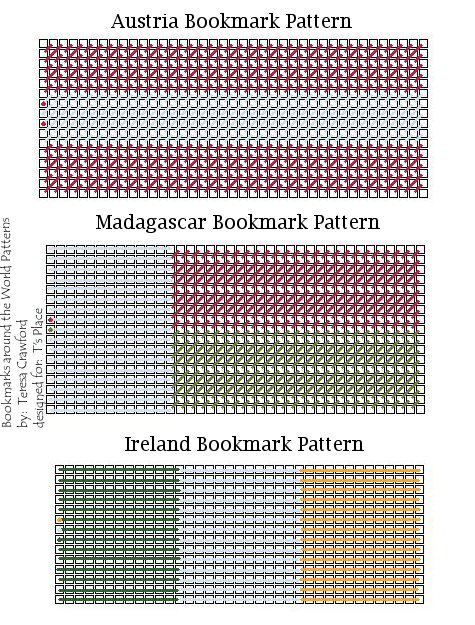 Material Used:
7 count Plastic Canvas Mesh (1 piece to do all 3 bookmarks)
Austria Needloft Yarn:
#01 Red - 5 yds.
#41 White - 5 yds.
Madagascar Needloft Yarn:
#41 White - 5 yds.
#01 Red - 5 yds.
#28 Christmas Green - 5 yds.
Ireland Needloft Yarn:
#27 Holly - 5 yds.
#41 White - 5 yds.
#12 Pumpkin - 5 yds.

To Finish Project:
Austria Tassel: two 9 inch piece of Red and one 9 inch pieces of White yarn
Madagascar Tassel: one 9 inch piece of White, REd and Christmas Green
Ireland Tassel: one 9 inch piece of Holly, White and Pumpkin

Stitches Used:
Austria Stitches:
Scotch Stitch
Slanting Gobelin
Continental Stitch
Overcast
Madagascar Stitches:
Scotch Stitch
Continental Stitch
Slanting Gobelin
Overcast
Ireland Stitches:
Long Stitch
Overcast
Instructions:
Cut 1 piece of mesh 40X17 threads (39X16 holes) for Austria; cut 1 piece of mesh 39X18 threads (38X17 holes) for Madagascar; and 1 piece of mesh 38X15 threads (37X14 holes) for Ireland.

Follow the patterns to stitch each bookmark. Overcast each project using the adjoining colors in each section.

To make the tassels On either side of the project, thread yarn through the bookmarks at the area indicated on the patterns by a dot. (Austria red, white, red pieces of yarn; Madagascar red, green, white pieces of yarn; Ireland holly, white, pumpkin pieces of yarn) - 9 inches of each color. Knot the pieces together in the front of the project, trim, and then pull threads apart to give it a fluffed look. Braid the pieces together and then knot at the end, trimming and then pulling the threads apart to give it a fluffed look (as shown in the finished project picture).

Questions or comments? Contact teresa@tsplace.com
Copyright 1997-2017 Teresa Crawford. Not for commercial use without permission
Back to T'sPlace!